NEW CADILLAC SEDANS AT Ettleson Cadillac
Cadillac is known for developing sophisticated, high-performing, and cutting-edge vehicles. A review of the current Cadillac sedan lineup showcases the meticulous detail that goes into each model. With cutting-edge technologies like an OLED diagonal display, Super Cruise™ hands-free driving technology, and Night Vision Systems, you will unlock unparalleled technologies in the new Cadillac Sedans.
As for safety and driver assistance technologies, Cadillac sedan models are meticulously crafted to offer the utmost peace of mind. Whenever you enter the cabin. You will feel the ultimate peace of mind knowing that there are a variety of safety systems in place to keep you protected. These technologies are included as a suite of standard safety features, the Cadillac Smart System. Technologies available in the Cadillac Smart System include:
Emergency Braking: Front pedestrian braking and automatic emergency braking with forward collision alert will reduce the severity of front-end collisions. These systems will alert you of any potential danger and even apply the brake if necessary.
Alerts: A forward collision alert, will warn you of any potential front-end collisions, so you can quickly respond to any danger. The safety seat alert uses driver's seat vibration pulses to help you identify crashes. The rear seat reminder will ensure you look in your backseat before exiting your car, helping you to leave no one or nothing behind.
Parking Assistance: Rear park assist will provide alerts of any nearby detected objects while an HD rear vision camera showcases the area directly behind your vehicle onto your informant screen.
Teen Driver: This driver assistance feature encourages good driving habits in teens, turning on safety features when a Teen Driver key fob is used. The radio will be muted until seat belts are fastened, and driving feedback is provided to the driver.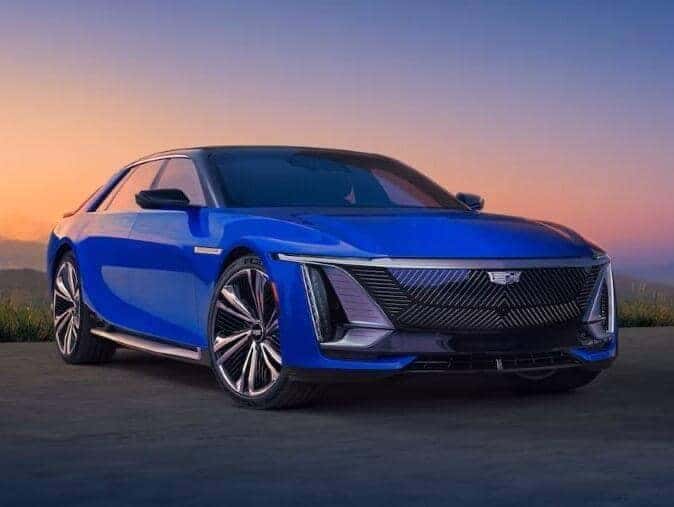 CELESTIQ Starting at $TBD
The new Cadillac Celestiq has been meticulously crafted to be an immediate icon. The exterior is ultramodern, with designs as unique as their owners. With an aerodynamic body, sleek lighting, a commanding front grille, and a low wide stance, the new Celestiq will instantly catch your attention.
From the interior, you will enjoy a spacious, sophisticated, and contemporary design. With the industry's first Smart Glass Panoramic Sunroof with fixed glass, the cabin will be open and airy, giving you an immediate connection to nature. A ClimateSense™ four-zone microclimate system will provide individualized comfort to each passenger and five advanced HD interactive displays will cater to the needs of every occupant.
The new Cadillac Celestiq is powered entirely by electrification, giving you the peace of mind that comes with emissions-free driving. Performance is enhanced by advanced all-wheel drive, adaptive air suspension with magnetic ride control, active rear steering, and active roll control.
CT5-V BLACKWING Starting at $91,995
The Cadillac CT5 V-Series is a sedan designed to excite. The exterior design showcases luxury sport sedan stylings, with design elements of sophistication. Offering style and functionality, the CT5 V-Series Blackwing offers two available Carbon Fiber exterior packages, which add adornments and aerodynamic touches that showcase the impressive power beneath the hood.
When you sit behind the wheel, a driver-focused cockpit will surround you with the race-like features you desire while still presenting unbridled sophistication. A high-performance steering wheel will offer the most of every turn, while suede microfiber interior accents with red-center stitching allude to the sedan's athleticism. To give you playback capabilities to every drive, an integrated performance data recorder allows you to capture every aspect of your drive and play it back on your diagonal user touchscreen.
The new Cadillac CT5 V-Blackwing is powered by a 6.2-liter Supercharged V8 engine that delivers a potent 668 horsepower and 659 pound-feet of torque. This impressive performance is elevated by magnetic ride control, Brembo® performance brakes, and Michelin Pilot® Sport 4S low-profile tires elevate the abilities of performance.
CT5-V Starting at $50,995
The new Cadillac CT5-V is artfully designed to offer optimal aerodynamics. A mesh grille poses as a stylish and functional attribute, directing air to the components while providing bold looks. A front and rear spoiler allude to the athleticism and lightweight wheel designs for better performance, providing a well-thought-out design that will surpass your expectations.
From the interior, the design is inspired by the track, with features centered around the driver. Carbon Fiber accents, ergonomic performance seats, sport-themed interior design, and a suede steering wheel and shifter all perfectly blend together with athletic luxury. A drive mode selector, head-up display, and 12" diagonal HD reconfigurable cluster put everything you need at the tips of your fingers.
The Cadillac CT5-V is powered by a refined 3.0-liter twin-turbocharged V6 engine paired with a 10-speed automatic transmission that delivers an impressive 360 horsepower and 405 pound-feet of torque. Meanwhile, Active Fuel Management™ ensures your fuel efficiency is optimized while you enjoy thrills behind the wheel. The rear-wheel drive sets a strong foundation for high-performance handling so that each corner can be effortlessly turned.
CT5 Starting at $38,195
The Cadillac CT5 sedan travels forward with uncompromising luxury. The design boasts both athleticism and sophistication, with an impressively designed exterior. With carved corners and a sculpted body, you will immediately notice the aerodynamic stance of the CT5. To take exterior design even further, signature vertical lighting, sport trim enhancements, and alloy wheels seamlessly come together in the exterior design.
The Cadillac CT5 wears an interior full of refined and sophisticated features. A driver-focused cabin with premium materials, heated and ventilated massage front seats, and a heated steering wheel will exceed all of your expectations for luxurious comfort. All the while, intuitive expansive displays, Super Cruise™ hands-free driving, a Bose® audio system, and wireless phone charging will meet all of your modern demands.
Powered by your choice of a standard 2.0-liter twin-scroll turbocharged engine or an available 3.0-liter twin-turbocharged V6 engine, the CT5 will deliver up to 335 horsepower and 405 pound-feet of torque. To enhance performance, a drive mode selector comes standard, allowing you to customize the performance to your preferences.
CT4-V BLACKWING Starting at $60,995
Unlock exhilarating power and undeniable looks in the new CT4 V-Series Blackwing. With racing in its DNA, you will enjoy a refined and athletic design. Artful aerodynamics are shown, as the exterior has been eloquently designed with sleek sculpting and contours. Two available Carbon Fiber exterior packages will further enhance the exterior, while also reducing lift and improving high-speed performance.
Inspired by the track, the CT4-V Blackwing possesses an interior centered around the driver. Features like alloy paddle shifters, Carbon Fiber console trim, and bolstered front seats with an ergonomic steering wheel and armrests contribute to the athletic interior feel. Meanwhile, premium materials with quilted patterns elevate the sophistication. In the new CT4-V Batwing, you can record and review your performance, with an integrated performance data recorder, which will show every aspect of your drive onto your Cadillac interface.
Powered by a 3.6-liter Cadillac-exclusive twin-turbocharged V6 engine paired with a 6-speed manual engine, the new CT4-V Blackwing will deliver a thrilling 472 horsepower and 445 pound-feet of torque. This power boosts acceleration from 0 to 60 MPH in only 3.9 seconds and a top track speed of over 189 mph. Magnetic ride control and Brembo® performance brakes take the ability of the CT4-Blackwing to the next level.
CT4-V Starting at $46,595
The new Cadillac CT4-V was designed with a purpose. The exterior wears an athletic design, elevated by sophisticated accents like a mesh grille, front and rear spoiler, bolt 18-inch wheel designs, and sleek LED lighting.
The cabin is centered around the driver, while still providing comfort features to every occupant. With a balance between sophistication and athleticism, the CT4-V provides a cabin unlike any other. Carbon Fiber accents, premium materials, and ergonomic performance seats come together to make every drive an unforgettable experience. Technology like a premium audio system, a driver information center display, a head-up display, and a drive mode selector put all the features you need within arm's reach.
At the heart of the new Cadillac CT4-V is a 2.7-liter dual-volute turbocharged engine coupled with a 10-speed automatic transmission. This powerful pairing delivers an impressive 325 horsepower and 380 pound-feet of torque, allowing for acceleration from 0 to 60 mph in 4.8 seconds and a top track speed of 156 MPH. To make sure every drive is smooth and confident, the CT4-V features the latest generation of magnetic ride control and the fastest-reacting suspension technology.
CT4 Starting at $34,395
The Cadillac CT4 was crafted to make a statement. A rear-wheel driver-focused design provides eye-catching exterior proportions that are just as attractive as they are functional. Premium alloy wheels, signature vertical lighting, and sport trim enhancements take appearances to the next level, with details at every angle that demands recognition.
As soon as you take a seat inside the new CT4, you will notice the obsessive craftsmanship that delivers immersive refinement and luxury. Heated and ventilated front seats with lumbar massage are covered in premium materials, like leather seating, and high-contrast color options. A Bose® premium audio system will allow you to enjoy the ultimate audio experience while a 12" diagonal HD color instrument cluster showcases personalized vehicle information.
Discover the thrilling performance of the 2.7-liter turbocharged engine paired with a 10-speed automatic transmission. This intentional powertrain delivers a heart-pounding 310 horsepower and 350 pound-feet of torque. Available Performance AWD and Brembo V Performance brakes will offer an optimized connection to the road, while a drive mode selector allows you to customize performance.